The biggest divestment commitment yet?
Charlie Wood – 350.org Australia

<350@350.org>

Unsubscribe

11:08 AM (2 hours ago)
Friends,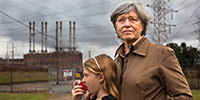 Dear Norway, please divest!
It's time for the largest national pension fund in the world to stop profiting from climate destruction.
In 2015, the global divestment movement has been growing in leaps and bounds, and right now we have a chance to make history.
On June 5th, the largest national fund in the world — worth a whopping $867 billion — could divest from coal.
If Norway divested even the 1.3% that its Global Pension Fund has invested in coal, it would be the biggest divestment EVER. And there's a real chance that they'll do just that — especially if people around the world chime in to encourage them.
Ask Norway's political leaders to divest the country's Global Pension Fund from fossil fuels, starting with coal.
This week, we're delivering tens of thousands of signatures from people like you to Norwegian Parliamentarians, who'll make a recommendation to the larger parliament vote the following week.
With enough pressure from around the world, this could be the biggest amount of money ever divested from fossil fuels by a single institution. If enough of us make our voices heard ahead of their crucial deadline this week, it could send a strong signal that it's time to end coal once and for all.
With great (financial) power, comes great (moral) responsibility:
Tell Norway's political leaders to stand on the right side of history.
With your voice — and the voices of frontline communities who are fighting coal from India to Poland — we've got a good chance of being heard. And with coal divestment under its belt, Norway will be one huge step closer to full divestment from all fossil fuels.
Thank you for answering the global call,
Charlie for the 350.org team

---
350.org is building a global climate movement.You can connect with us on Facebook, follow us on Twitter, and become a sustaining donor to keep this movement strong and growing.