Thank you for speaking up ALYSIA GET=UP
Click here to enable
desktop notifications for Gmail.   
Learn more
Hide
Something's not right.
We're having trouble connecting to Google. We'll keep trying…
Thank you for speaking up
NEVILLE,
Week after week, we continue to hear the disturbing evidence from those who have worked inside Australia's detention centres and witnessed the trauma being inflicted on children as young as two.
This week was no different, as we learnt that a newborn baby – just five months old – was sent to Nauru. In spite of all we know, the Government is still desperately clutching on to the idea that what they're doing is somehow justified. But for years now, GetUp members have been chipping away at this idea, which looks flimsier by the day.
While the Government may have been successful in pushing children out of sight, they will never be pushed out of mind. GetUp members made sure of that last week, when we presented Parliament with a 102,220 signature-strong petition calling for the immediate release of all children and their families. Members in Canberra braved below zero temperatures to stand alongside 231 silhouettes of children on Parliament Lawns, each one representing a child still locked in detention.
None of this would've been possible without the dedication and support of amazing GetUp members like you, so thank you!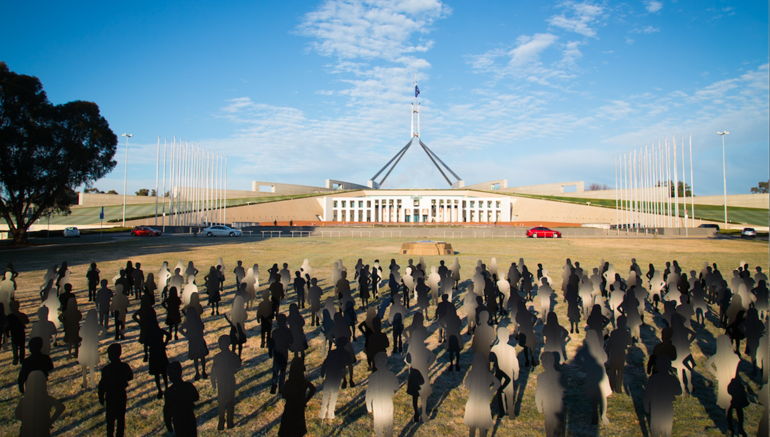 On the day, the 231 silhouettes stood as a solemn symbol of the 231 children in detention. Bashir Yousufi, who was detained on Christmas Island as a child, spoke of the impacts detention had on him and how he still carries them to this day. He spoke on behalf of all the children who are still being locked up and denied the opportunity to enjoy their childhood.
GetUp members were joined by Senator Sarah Hanson-Young, Melissa Parke MP, Anna Burke MP and Andrew Wilkie MP, who accepted the petition on behalf of Parliament and spoke passionately about the urgent need to release all children from detention. (Immigration Minister Peter Dutton was also invited to accept the petition, but advised he was unable to attend.)
This shameful policy of detaining children is supported by both major parties, which is why it's so important to champion those who are courageous enough to speak out against it. If you're on Twitter, can you take 30 seconds to send a message of thanks to those who stood with us last week, by clicking here?
It's not easy, but every day our fight is emboldened by GetUp members – like you – who don't give up and keep raising your voice to speak up for all children locked in detention.
Thank you so much for being part of the fight!
Alycia and Ricky for the Getup team
PS. Last week, our message was trending across the country as people posted photos from their childhood and shared a story to remind Australians of the 231 children in detention who are being denied a childhood. You can check out some of the stories here: https://storify.com/GetUp/kidsout