The conversation has been marked as important.
Blair Palese – 350.org Australia

<350@350.org>

Unsubscribe

3:05 PM (3 hours ago)
Neville,
I never thought I'd be saying this but the fossil fuel industry is fast becoming public enemy number one. When the divestment campaign started three years ago, few of us anticipated the response….From a few US liberal-arts colleges committing to quit their investments in coal, oil and gas companies, this movement has now swelled to over 450 institutions around the world. But we need your help to keep up the momentum
Can you become a regular 350 Australia donor to help us turbo-charge this people-powered movement in 2016?
This year alone, we've seen international commitments from the likes of Norway's $1.15 trillion Sovereign Wealth Fund, the US' largest pension fund CALPERs, the Rockefeller Brothers Fund, the Guardian Media Group, universities like Oxford and  Georgetown and cities like Paris and Oslo. Even Leonardo DiCaprio has joined the call!
Here at home, the commitments are also coming thick and fast. Over 40 Australian institutions have now committed to go fossil free including: Newcastle, home to the world's largest coal port; the A.C.T., formerly home to the world's largest coal lover; and Melbourne, home to some of you. The National Tertiary Education Union and our foremost scientific body – the Australian Academy of Science – are the most recent institutions to join the growing chorus of voices calling for a future beyond fossil fuels.
Our movement now influences institutions who collectively manage $2.6 trillion – a 50-fold increase on where we were 12 months ago.
Can you help us keep up this divestment momentum in 2016?
Our movement is hitting the fossil fuel industry where it hurts and helping to sow the seeds of genuine political change.
Coal companies are lashing out against us in the media. Gas companies are investing millions in elaborate re-branding campaigns. Oil companies are being exposed for decades' worth of devastating climate cover-ups.
Two of the world's most fossil fuel loving politicians (our Abbott and Canada's Harper) are now out of power. Global support is mounting for a moratorium on new coal mines. Former head of the Reserve Bank, Bernie Fraser, just rejected our Government's assertion that digging up coal is moral. Even, the birthplace of the coal industry itself – the United Kingdom – is seriously considering shutting all of its coal plants, forever.
Can you donate to help us to aim higher and hit harder than ever before in 2016?
Together, one institution at a time, we are helping to challenge the most powerful industry on the planet so that we can tackle the greatest moral challenge of our time.
But there's more to be done. Extreme weather events are hastening. Another angry summer is on its way. Next month, world leaders will congregate in Paris to again attempt a climate treaty and again, there is no guarantee of success.
We can turn this around — the more institutions that divest, the more we can take away the fossil fuel industry's power to pollute our politics and our planet.
In 2016, 350.org Australia has plans to grow the divestment movement like never before. Imagine dozens of local governments going fossil free and putting pressure on our Federal Government to follow. Imagine an ambitious national campaign ahead of the Federal election calling upon our politicians to stop giving to and taking from the big polluters. Imagine more of our universities and super funds kissing goodbye to their investments in the worst industry on the planet.
The stakes have never been higher, the momentum never stronger.
Will you chip in to help our people-powered movement keep fighting the industry that's wrecking our planet and win?
Yours for a fossil free future,
Blair
PS: Can't afford to give regularly but keen to make a one-off donation? Click here!
PPS: Checkout some of the institutions that have divested this year — click on the graphic to help us grow this movement even stronger in 2016: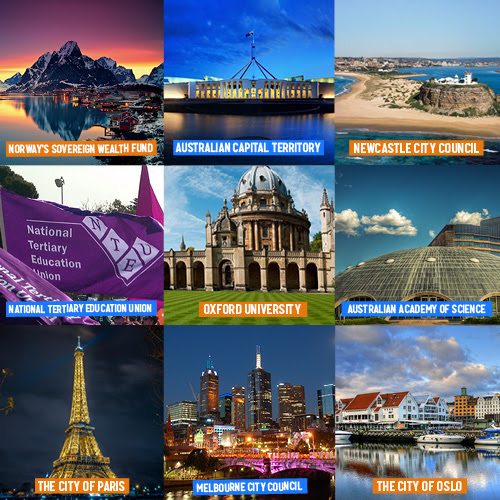 ---
350.org is building a global climate movement.You can connect with us on Facebook, follow us on Twitter, and become a Climate Defender and donate monthly to help 350.org keep Australia's fossil fuels in the ground.