Convoy against Coalruption
Josh Creaser – 350.org Australia josh.creaser@350.org.au via list.350.org

4:19 PM (15 minutes ago)

to me
Dear friend,
There comes a time when you have to say, enough is enough.
While the science tells us that we urgently need to move beyond fossil fuels to avoid catastrophic climate change, mining licences and applications now cover a staggering 80% of NSW.* Increasingly, a number of NSW politicians are being implicated in corruption scandals involving developers and mining companies.
That's why, this Queen's Birthday long weekend (6-9 June), 350.org is supporting a Convoy Against Coalruption – to help join the dots between corruption and dangerous fossil fuel expansion. Click here to find out more then LIKE and SHARE this graphic to spread the word.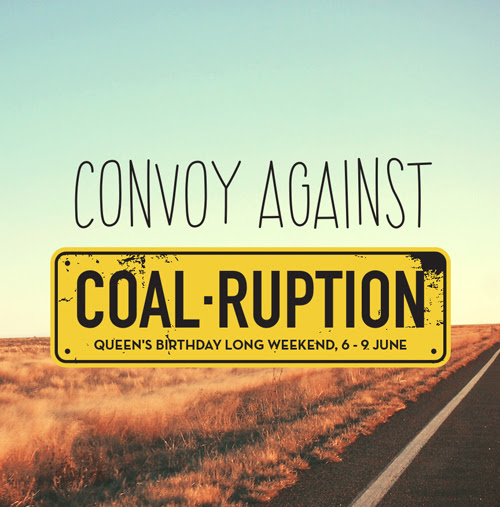 The Convoy against Coalruption is a fantastic chance to join with your family and friends to help connect the dots between the ICAC corruption investigations and the massive coal and gas projects being unveiled across regional NSW. Along the way, you'll meet local communities, landowners and indigenous elders and learn more about the climate impacts of unbridled coal and gas expansion.
Click here for all the details and share on facebook here.
We'll be leaving from Sydney in the afternoon of Friday, 6th of June (we are also considering an option for those who cannot leave until after work, depending on demand), and returning by Monday evening (9th). We are looking for 100 people to join the convoy so would love for you to join us.
We hope you can join us this Queen's Birthday long weekend to fight coalruption!
Warmest wishes,
Josh on behalf of the whole 350.org team
The Convoy against Coalruption is supported by 350.org and Front Line Action on Coal.
*Click here to read more.

---