Click here to enable
desktop notifications for Gmail.   
Learn more
Hide
A new way to get your news
| | | | |
| --- | --- | --- | --- |
| | 10:30 AM (1 minute ago) | | |
Hi NEVILLE,
I'm James, a software developer at GetUp. Usually when you get an email from GetUp, we're writing to you about one issue. But today I'm hoping to talk to you about something a little different: it's about how we can work together on every issue.
There's so much news produced every day, and every news source tells but one part of the story. It's not always clear what an article means for the issues you care about, or what you can do about it. So we're creating a mobile app that brings to you the whole state of play, with analysis and campaign insight, super fast. It's called GetUp Scoop, and it offers you a compact, daily, news briefing using the best news sources available.
Click here to find out more about GetUp Scoop!
Here are some of the great things Scoop allows you to do:
See the top stories of the day in digest form to quickly catch up on the headlines.
Read the day's most important stories and get analysis from our campaigners on what it means for campaigns and what you can do about it.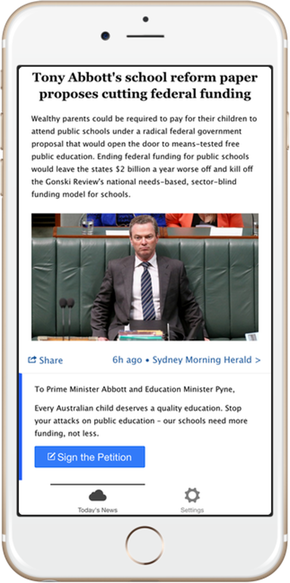 Decide what you want to hear about and when you hear about it.
Intrigued? Click here to find out more about GetUp Scoop!
Thanks for all that you do,
James, for the GetUp team
---
GetUp is an independent, not-for-profit community campaigning group. We use new technology to empower Australians to have their say on important national issues. We receive no political party or government funding, and every campaign we run is entirely supported by voluntary donations. If you'd like to contribute to help fund GetUp's work, please donate now! To unsubscribe from GetUp, please click here. Our team acknowledges that we meet and work on the land of the Gadigal people of the Eora Nation. We wish to pay respect to their Elders – past, present and future – and acknowledge the important role all Aboriginal and Torres Strait Islander people continue to play within Australia and the GetUp community.
Authorised by Sam Mclean, Level 14, 338 Pitt Street, Sydney NSW 2000.