A huge thank you, from me
10:57 AM (0 minutes ago)
Dear NEVILLE,
About this time seven years ago, I was sitting on a dusty keg in GetUp's first office (it was a free space in the unused top floor of a pub).
I'd just started as a volunteer, and one of my first tasks was to start collating the images and video footage that would make up our end of year report back to members.
As I scanned through, I was blown away to see what (at the time) a relatively small number of members like you had achieved that year. It was then and there I saw the power of this movement, and it has been my life since.
Five years later, watching our end of year celebration video of GetUp members passionately volunteering their time, voice and hard earned money in order to achieve so much on the issues we care about, still moves me like it did that very first time.
This is your movement, and now it is bigger, stronger and more determined than ever because of people like you.
Here's your year as a GetUp member, NEVILLE – I hope you feel as proud as I do of what we've achieved together in 2014: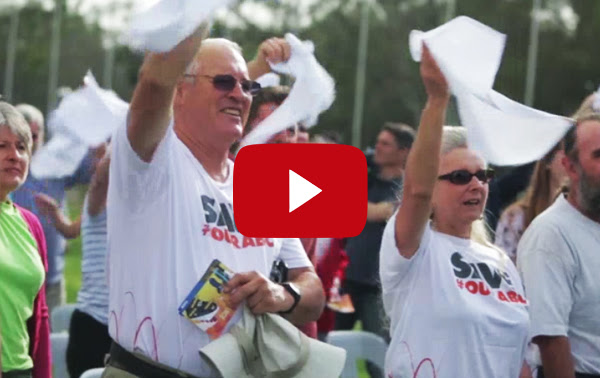 https://www.getup.org.au/2014-what-we-did-together
This year we did incredible things, and we did them in trying circumstances.
In the face of a government which set out to unwind Australia's groundbreaking climate progress, you hit the streets to show the entire world that if our politicians won't take action on climate change, we will instead.
In response to a brutal budget balanced on the backs of those with the least to spare, you raised your voice to remind our leaders in Parliament that Australians believe in a fair go for all, and we won't let our neighbours fall through the cracks.
And when our nation stood in its darkest days – locking men, women and children up in inhumane, dangerous offshore detention centres – you lit a candle in compassion for those who died on our watch, in hope and in defiance of the cruelty done in our name.
So I wanted to take this opportunity to say a sincere and heartfelt thank you. It is an honour to be part of this movement.
Thank you, for all that you do.
Sam, for the entire team at GetUp.
PS – Do you want to show your support for the GetUp community and the issues we fight for all year round? Why not donate $28 or more now and receive one of our brand new fair trade GetUp t-shirts. They come in charcoal and white and we've tested them out and are looking forward to sporting them in 2015! https://www.getup.org.au/2014-what-we-did-together
PPS – Have you seen our 2013-14 Annual Report yet? It shows GetUp member dollars at work in the most recent financial year – and because we always aim to be as transparent and accountable as possible, you will find details of all our finances and expenditure in the report as well. Click here to check it out: https://www.getup.org.au/2014-what-we-did-together